News
16.05.2015
WNBA-presidium completed again
WNBA-presidium after the election of a new president at the occasion of the 4. WNBA-conference, which took place at Speichersdorf, GER. This election was necessary because former president Ludwig Kocsis resigned in november 2014. The tenure of the presidium is not affected by this election. Its running until the next regular conference in the year 2017.
From left to right:
Siegfried Schweikardt, GER, president NBC (WNBA-Sektion Classic)
Dieter Kuke, Präsident, GER, president NBS (WNBA-Sektion Schere)
Rag. Johann Tock, ITA, accountant
Erich Schröder, GER, accountant
Veronika David, HUN, vicepresident
Michael Teschner, GER, vicepresident
Thomas Berk, GER, President
Marita Geinitz, DEN, vicepresident NBBK (WNBA-Sektion Ninepin Bowling Breitensport Kegeln), as representative of NBBK president Leo Sitz, AUT
---
---
The reform commission of the WNBA had its first meeting on Saturday, 8th February 2014 in Barcelona after an invitation of the Catalan Association.
The commission`s task is to analyze and investigate the current structures of the internatonal Association and its sections, to develop proposals for a restructuring and to achieve an efficient management.
After a thorough analysis of the current situation by the members, a division of task for developing first relevant concepts could be made and the the kick-off meeting could be finished optimistically. The members are ready to cope with their assigned reform task for a good future of the Ninepin-Sports.
The reform should come with a positive approval in 2017 at the latest. Next target for the implementation of the reform is to inform the presidium of the individual sections and all member nations of the first meeting and the present results, as well as the other planned timetables.
Members of the reform commission:
Ludwig Kocsis, /AUT/ WNBA President, FIQ Vicepresident
Michael Teschner, /GER/ WNBA Vicepresident
Veronika David, /HUN/ WNBA Vicepresidentin
Michael Hänsel/GER/Representative Schere Section
Erwin Zimmermann /GER/ Representative Classic Section
Leopold Sitz /AUT/Representative Bohle, Breitensport Section, NBBK President
Joan Ricart /CAT/ President of Catalan Association
f.l.to r.: Michael Hänsel, Veronika David, Michael Teschner, Juan Ricart, Ludwig Kocsis, Erwin Zimmermann, Monika Nguyen, Leo Sitz
---
Ludwig Kocsis unanimously re-elected as President of the WNBA


In 2017 the sections NBC, NBS, NBBK shall be dissolved and integrated into the WNBA



Last Saturday, on the 7th September 2013, the WNBA-Conference was taken place in Schlammersdorf (GER). Re-elections was a point on the agenda.
Ludwig Kocsis (AUT) was unanimously re-elected as President for the next four years. This will be his third term of office.
The current Vice-President Veronika David (HUN) was also unanimously elected for the position of Vice-President.
Furthermore a new WNBA Vice-President, Michael Teschner from Germany, was unanimously elected, too. He is from the section "Schere".

Reform of the sections until 2017
At the same time a unanimous decision was taken that in 2017 there will be only one world association " namely the WNBA " and the previous sections Classic, Schere and Bohle, which currently acting independently, will be resolved.
For this reason, a working group will be established from the WNBA, which will prepare a concept for the integration of all sections in the WNBA and after an appropriate resolution it will come into effect in 2017.
---
Ceremony "80 Years of ÖSKB"
---
World Championship Women/Men in Hungary
WNBA Vizepräsident Veronika David, Stellvertreter Staatssekretär für Sport Herr Norbert Kiss, WNBA Präsident Ludwig Kocsis und Bela Csanyi 9xWeltmeitester
---

Presidium NBBK
---
New President at Hungarian Ninepin Bowling Federation
The Classic Team World Championship will be hosted in Zalaegerszeg, Hungary, from 5.17 till 25.05.2013.
President of the WNBA, Mr. Ludwig Kocsis visited the Hungarian Federation on 22.02.2013 in Budapest and welcomed Mr. Dr. Zoltan Simon, the new president, and he wished him success.

---
---



Andrew Frawley /Kuwait/, Pekka Korpi /FIN/,
Vivien Lau /Hong Kong/,

Kevin Dornberger /USA/, Ludwig Kocsis /AUT/,
Veronika David /HUN/,

Siegfried Schweikardt /GER/, Tomaz Milac /SLO/






31.03.2012 Celje /SLO/

It was the first time when FIQ Presidium Meeting was organized in Ninepin Bowling event on 31 March 2012 in Celje. Due to the fine presentation, we have made a good impression and received honorable mention.

Very special thanks to the Slovenian Federation for the excellent organization and hosting!



---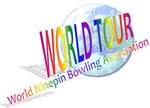 29/11/2011
Ab 2012 Jahr ...
WORLD TOUR NINEPIN BOWLING CLASSIC
Concept
|
Information
|
Application form
---
04-08.10.2011


XXIII. WORLD CUP Club-Teams /Ninepin Bowling Classic/ - Augsburg /GER/
XXIII. EUROPAN Cup Club- Teams /Ninepin Bowling Classic/ - Bozen /ITA/
X. NBC CUP Club-Teams /Ninepin Bowling Classic/ - Skopje /MKD/
---

22/09/2011
50. Jährige Jubiläum in Luxemburg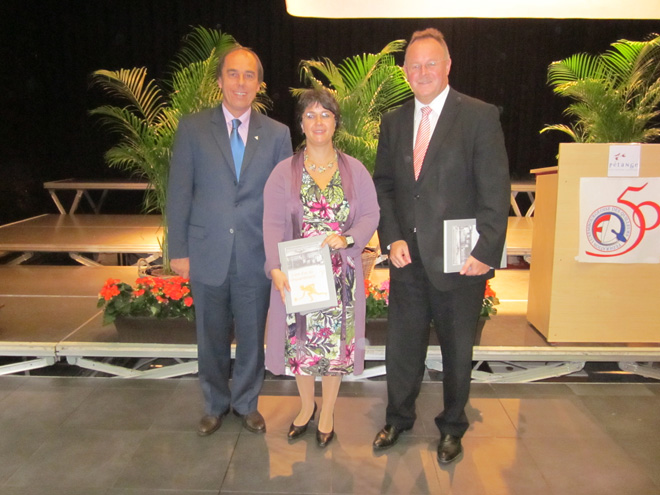 Kulturministerin Octavie Modert und Sportminister Romain Schneider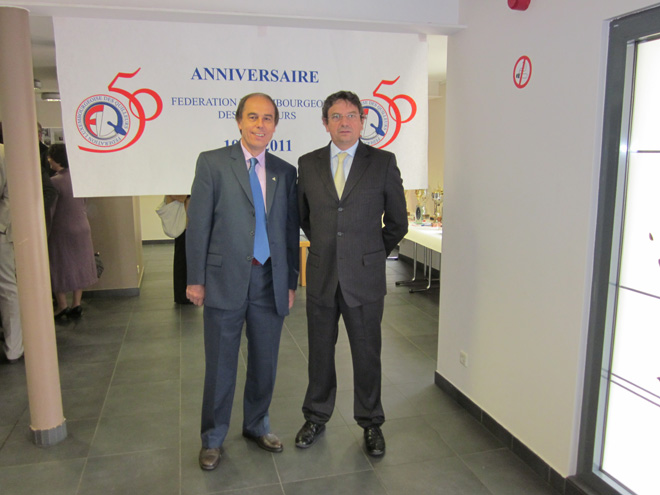 Präsident des Olympischen Komitees von Luxemburg Marc Theisen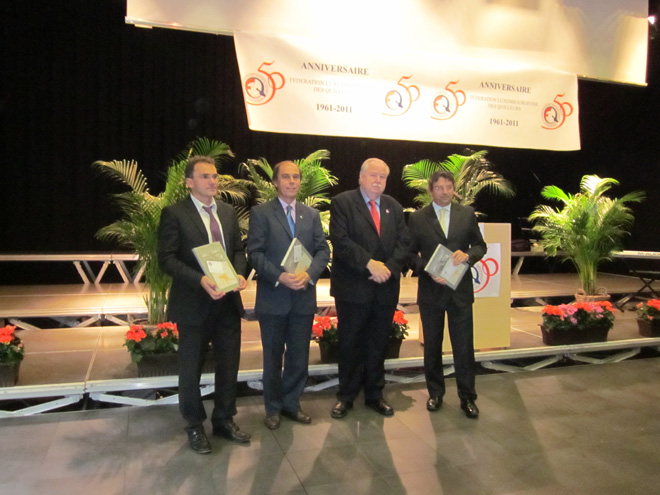 ---

13/09/2011
FIQ Congress 13.09.2011 Hongkong
---

Photos of the conference of the WNBA
23/08/2011
Photos of the conference of the WNBA
---

Conference of WNBA 2011
10/06/2011
On 20.08.2011 in Győr /Hungary/
Invitation
---

NBS World Championship
05/05/2011
The World Championship 2011 of Schere Section will be organized in Belgien (Kelmis) from 11. june till 18. june.
www.kegeln.be
Info
---

NBS World Cup 2011
03/05/2011
You can download on this link the poster of the World Cup 2011 of Schere Section of WNBA
Info
Related Documents
1_achteldamen.pdf
kuglanje_plakat_B1.pdf